1. Macgyver 's Pilot

After a bombing attack in a laboratory, a vew proffessors are trapt several feet below the earth. MacGyver is hired, and has to race against the clock to rescue them and also avert a disaster..
Writer: Thackary Pallor - Director: Alan Smithee
Guest Cast: Michael Lerner as Gantner, Dana Elcar as Andy Colson, Paul Stewart as Dr. Steubens, Michael C. Gwynne as Dr. Burke, Olaf Pooley as Dr. Sidney Marlow, Shavar Ross as MacGyver's "little brother," Darlanne Fluegel as Barbara Spencer.
2. Golden Triangle

Unwillingly MacGyver ends up in camp in the heart of Asia. His mission was only to find a canister with deadly liquids, but now he also wants to rescue the slaves who work on the opium fields.
Writer: Dennis Foley - Director: Paul Stanley
Guest Cast: Joan Chen as Lin, George Lee Cheung as General Narai, Clyde Kusatsu as Anek, Keye Luke as Prasert, Benjamin Lum as Truang, Bryan Price as Chan, James Saito as Ming.
3. Thief of Budapest

MacGyver goes to Budapest to receive very important information about the K.G.B. He didn't count on Jena, a young gipsy. Very soon the two of them have to run for the K.G.B.
Writer: Joe Viola - Director: John Patterson
Guest Cast: Michael Constantine as Jan Messic, Bruce Abbott as Kossov, Kelly McClain as Yanna, Sue Kiel as Reena.
4. The Gauntlet

MacGyver tracks down an investigative reporter in Latin America. Before they leave the country, she HAS to take pictures of a arms dealer. They are risking their life, and MacGyver has to open a box of tricks to get safety to Mexico.
Writer: Stephen Kandel - Director: Lee H. Katzin
Guest Cast: Robin Curtis as Kate Connelly, John Vernon as Ryerson, Gregory Sierra as General Antonio Vasquez.
5. The Heist

MacGyver discovers a jewelthief, and with the help of Chris Rhodes he steels the 60 million dollar diamonds back.
Teleplay: James Schmerer - Writers: Larry Alexander & James Schmerer - Director: Alan Smithee
Guest Cast: Vernon Wells as Catlin, Victoria Bass as Tiffany, John Carter as Senator Rhodes, Doran Clark as Chris Rhodes.
6. Trumbo's World

MacGyver goes to the Amazone to visit his friend Charlie. He tells Mac that all the animals are Mysteriously pannicking. On their incuiry they discover plantation owner Trumbo, who has a battle of his own...
Writer: Stephen Kandel - Director: Donald Petrie
Guest Cast: David Ackroyd as Trumbo, Peter Jurasik as Dr. Charles Alden.
7. Last Stand

MacGyver wants to spent his week-end fishing, but he stumbles into a hostage situation, by a gang that just want to raid an armoured car.
Writer: Judy Burns - Director: John Florea
Guest Cast: Harry Caesar as Al Tennyson, Steve Franken, Jackie Earle Haley, Art Hindle as Dave Redding, Kay Lenz as Kelly Nelson, Michael McGuire as Andrews, Anthony Penya, Lewis Van Bergen as Buddy.
8. Hellfire
MacGyver visits his old friend Bill Farren and his wife Laura. When a fire gets out of control Mac has to become a Hellfighter.
Teleplay: Stephen Kandel, James Schmerer & Douglas Brooks West - Story: Douglas Brooks West
Director: Richard Colla Guest Cast: Cooper Huckabee as Bill Farren, Nana Visitor as Laura Farren, Rudy Ramos as Pete Torgut.
9. The Prodigal

MacGyver has to help Frank Bennett who's being teased by his brother Joey, because Frank wants to give his testimony in court.
Teleplay: David Abramowitz - Story: Paul Savage & David Abramowitz - Director: Alexander Singer
Guest Cast: Robert Romanus as Frank Bennett, Richard Romanus as Joey Bennett, Carl Franklin as Wiley, Angela Clarke as Caterina Bennett.
10. Target MacGyver

After a mission Mac finds out that a contract killer is hired to hunt him down. This man even finds him while he is visiting his grandfather Harry.
Story: Mike Marvin - Director: Ernest Pintoff
Guest Cast: John Anderson as Harry Jackson, D'Mitch Davis as Axminster.
11. Nightmares

Returning from east Germany with information, Mac has no chance to give this to Pete, because he's been poisoned. Totally confused Mac has to rely upon the help of Lisa.
Writer: James Schmerer - Director: Cliff Bole
Guest Cast: Tammy Lauren as Lisa Allen, Dana Elcar as Pete Thornton, Robert O'Reilly as Curt Neilson, J.P. Bumstead as Barrett, Mike Mancini as Crisp.
12. Deathlock

A woman named Karen Black brings Mac to a safe-house, to meet Pete Thornton. The house is electronically booby-trapped by an old nemesis named Quale.
Writer: Stephen Kandel - Director: Alexander Singer
Guest Cast: Wendy Schaal as Karen Blake, Christopher Neame as Quayle, Dana Elcar as Pete Thornton.
13. Flame's End

Mac's ex-girlfriend calls him and says she's affraid someone wants to kill her. She works at a nuclear plant, where someone is stealing enough uranium for a nuclear bomb to kill a quart million people. After Mac's arrival the tension rises.
Teleplay: Stephen Kandel - Story: Hannah Louise Shearer - Director: Bruce Seth Green
Guest Cast: Tannis Montgomery as Any Austin, Conlan Carter as Ed Train, Robert Englund as Tim Wexler.
14. Countdown

Pete Thornton sends MacGyver and his army buddy Charlie to a Cruise-ship to defuse two
Writers: David Ketchum & Tony DiMarco - Director: Stan Jolley
Guest Cast: Ellen Bry as Carole Tanner, Steven Williams as Charlie Robinson, Dana Elcar as Pete Thornton, Michael Cavanaugh as Donahue.
15. The Enemy Within

MacGyver and Gregg Bannister have to find out who is killing DXS agents. A defected Russian woman can identify the killer.
Writer: David Abramowitz - Director: Cliff Bole
Guest Cast: Victoria Fyodorova as Viktoria Tomanova, Lynn-Holly Johnson as Ingrid Bannister, Michael W. Goodwin as Craig Bannister, Beau Starr as Lem.
16. Every Time She Smiles

MacGyver has a routine-mission in Bulgaria. He picks up a microfilm and leaves the country. On the airport he meets Penny Parker. This beautiful woman gets him in a lot of trouble.
Writer: James Schmerer - Director: Charles Correll
Guest Cast: Teri Hatcher as Penny Parker, Kai Wulff as Stephan Frolov, Michael Fox as Burak, Milos Kirek as Petrovich.
17. To Be A Man

MacGyver is shot down and wounded by Soviets in Afghanistan. He is depended upon the help of Ahmed and his mother. and has to stay out of the hands of the soldiers who are looking for him.
Writer: Don Mankiewicz - Director: Cliff Bole
Guest Cast: Persis Khambatta as Zia, Dana Elcar as Pete Thornton, Sid Haig as Khalil, Allan Kolman as the Captain, Ajay Naidu as Ahmed.
18. Ugly Duckling

Kate Lafferty knows a lot about computers. Sometimes her enthousiasme takes her in tight spots. When she breaks in to a computer of the government, she gets agents of the government and black marketeers on her tail, who want the information she found.
Writer: Larry Gross - Director: Charles Correll
Guest Cast: Darcy Marta as Kate Lafferty, Lee deBroux as Hatcher, Dana Elcar as Pete Thornton, Richard McKenzie as Willis, Ned Bellamy as Larkin.
19. Slow Death

MacGyver hops on a train in India. Shortly after this he and the other passengers are hijacked by people from a poor country, who want revenge.
Writer: Stephen Kandel - Director: Don Weis
Guest Cast: Frances Bergen as Eleanor Kingman, Kenneth Danziger as Peter Kramer, Anthony DeFonte as Hassan, Alan Fudge as Paul Webster, Carrell Myers, Pamela Roylance as Diana Kingman, Warwick Sims as James Grant, Mark Tymchyshyn as Andy Ellis.
20. The Escape

In North Africa MacGyver is hired by Sarah, who tells him her brother is in prison...innocent. Mac discovers that he can get in a prison without a problem... to escape one is a complete different story.
Writers: Fred McKnight & Stephen Kandel - Director: Don Chaffey
Guest Cast: Kristina Wayborn as Sara Ashford, Paul Verdier as Francois, John De Lancie as Brian Ashford, Miguel Fernandes as Khan, Vic Polizos as the Commandant.
21. A Prisoner of Conscience

MacGyver's boss, Pete Thornton discovers that his Russian friend Alexander Karshov is dead. When they arrive in Russia they also find out that Karshov's daughter is in danger.
Writer: Stephen Kandel - Director: Cliff Bole
Guest Cast: Elya Baskin as Demetri, Larry Dobkin as Alexander Karsoff, Dana Elcar as Pete Thornton, Marvin Kaplan as the Chess Master, Paul Koslo as Dr. Suvarin, Sharon Maughan, Tim Rossovich as the Political Prisoner.
22. The Assassin

MacGyver had to take out a proffessional killer, who's hired to kill a bishop. When Mac takes the place of the killer, the bishop is not the only target!
Writer: James Schmerer - Director: Charles Correll
. Guest Cast: Corrine Bohrer as Terry Ross, Anthony DeLongis as Piedra, Richard Yniguez as Emilio, Dana Elcar as Pete Thornton.
23. The Human Factor

MacGyver has to test a computer security system, designed by the beautiful dr. Ludlum. Col. Woodward is convinced that Mac can't find any mistakes.
Writer: Robin Bernheim - Director: Charles Correll
Guest Cast: June Chadwick as Dr. Jill Ludlum, Peter Haskell as Col. Scott Woodward, Peter Kwong as Steven Lee.
24. The Eraser

MacGyver has to solve a very important mission for Pete Thornton, but inadvertently leads a hit man to his target. Jimmy 'the eraser' Kendall has to kill someone for the 'godfather' Papa Chuck Banning.
Writer: Stephen Kronish - Director: Paul Krasny
Guest Cast: Joe Santos as Jimmy Kendall, Morgan Stevens as Simmons, Richard L. Jamison as Ralph, Henry Jones as Charles Banning.
25. Twice Stung
Macgyver and Pete Thornton are hunting for a criminal who stole the life savings of a friend, Kelly, who is also working for the Phoenix Foundation. The only question is: do they use the 'Boston Bang' or 'The Sacramento Switch'?
Writer:Phil Combest, Mark Lisson, & Bill Froehlich - Director: Paul Krasny
Guest Cast: Pamela Bowen as Joanna Remmings, Al Fann as Kelly Sutton, Richard Romanus as James Crowe, Rex Ryon as Carl, Steve Eastin as Tony.
26. The Wish Child

A friend of MacGyver, Lisa, asks him to look after her little brother while she has to go to San Francisco. Soon he has to rescue the boy from a scam in which he is passed off as a rein-carnation of an ancient Chinese Legend.
Story: Stephen Kandel, Brian Lane, & Stephen Kronish - Director: Charles Correll
Guest Cast: Leon Fan as Paul Chan, James Hong as Lee Wenying, James Paz as Ston, George Takei as Dr. Shen Wei, Tia Carrere as Lisa Chan, Clyde Kusatsu as Sam.
27. Final Approach

MacGyver has to guide four street youths on a rehab program in the jungle. Their mood is very low, and Mac is happy to return home. After their plane crashes in the mountains, they have to struggle for survival, and they are depended on each other.
Writer: Rob Hedden - Director: Alexander Singer
Guest Cast: Ramon Franco as Ramon, Pamela Gidley as Gina, Ricky Paull Goldin as Tommy, David Harris as Luther.
28. Jack of Lies

Jack asks his old buddy MacGyver to help him free a 'botanist' from a prison in South America. He does this very original.
Writers: Kerry Lenhart & John J. Sakmar - Director: Charles Correll
Guest Cast: Bruce McGill as Jack Dalton, Patricia McPherson as Michelle "Mike" Forester, Silvana Gallardo as Elena, Kevyn Mayor Howard as Sonny, Gregory Sierra as Colonel Antunnez.
29. The Road Not Taken

Pete Thornton's old friend Margaret and MacGyver's ex-fiance Deborah are on a hit-list. Reason enough to go to South east Asia.
Teleplay: Stephen Kronish - Story: Chuck Bowman - Director: Cliff Bole
Guest Cast: Marilyn Jones as Debra Easton, Salome Jens as Sister Margaret, Patrick Gorman as Gilbert Arnaud, Dana Lee as Chanthara, Arsenio "Sonny" Trinidad as Kahn.
30. Eagles
MacGyver has to observe a couple rare golden eagles. Together with the ten year old Darin Cooper he is forced to fight against a escaped felon to rescue one of the golden eagles who's shot and wounded.
Writer: George Lee Marshall - Director: Paul Krasny
Guest Cast: Julie Cobb as Susan Cooper, Chris Stone as Curry, Michael MacRae as Ghant, Peter MacLean as Mr. Nistrum, Danny Cooksey as Darin Cooper.
31. Silent World

A deaf friend of MacGyver has recurring nightmares about Mac. They all seem to come treu, which is not so good for the criminal Crane, who wants to steel the Moloch-rocket.
Writer: Stephen Kandel - Director: James L. Conway
Guest Cast: Mary Beth Barber as Carrie Linden, Jack Colvin as Abel Makepeace, Geoffrey Lewis as David Crane.
32. Three for the Road

MacGyver meets the aging actor Guy Roberts and his wife. Very soon they have criminals on their tail.
Teleplay: Kerry Lenhart & John J. Sakmar - Story: Rob Hedden & Mark Lisson
Director: Alan Crosland Guest Cast: Edward Mulhare as Guy Roberts, Anne Rogers as June Roberts, Richard Hatch as Michael Talbot, Dennis Stewart as Tom, Michael Rider as Phil.
. 33. Phoenix Under Seige (sic)

MacGyver has to fight against the time, when he has to difuse a bomb, and free his grandfather from the criminals.
Teleplay: Stephen Kronish - Story: John I. Koivula - Director: Gilbert Shilton
Guest Cast: John Anderson as Harry Jackson, Tricia O'Neil as Victoria Charles, Richard Lineback as Phillips, Harry Beer as Fred.
34. Family Matter

Frank Bonner, ex-agent of the Phoenix Foundation, kidnapped Thornton's ex-wife and son Michael. MacGyver has to make up a vew tricks to save Pete's family.
Writer: Paul A. Magistretti - Director: Alexander Singer
Guest Cast: T. Scott Coffey as Michael Thornton, Penelope Windust as Connie Thornton, Donald Gordon as Frank Bonner, Beau Billingslea as Boone, Jeffrey Josephson as Obadiah Moss.
35. Soft Touch

MacGyver's scatterbrained friend Penny Parker end up in the wrong garage, and sees thugs torturing a federal agent. She runs away, but together with the Russian Joeri Dimitri, she's captured by the criminals, and so MacGyver does not only have to free them, but also see that the assassination on Estavez does fail.
Writers: Joan Brooker & Nancy Eddo - Director: Charles Correll
Guest Cast: Teri Hatcher as Penny Parker, Robert Donner as Vince, Vincent Schiavelli as Lyle, Michael Ensign as Derek, Elya Baskin as Yuri Demetri.
---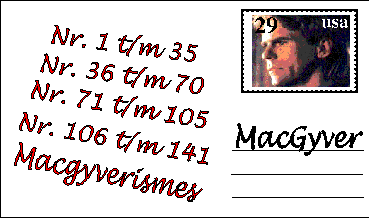 ---